by Dalia Karpel Ha'aretz 20.11.2009
The humming of the air conditioner is the only sound to break the silence. 12 people are lying down on mattresses with their hands to their sides and their palms turned upwards as if in prayer. Not a movement. The air is inhaled through the nostrils and exhaled gently through the mouth. In a metaphoric sense, it is a sort of "exiting the body" for examination and to this purpose the first minutes of "the Body Cognition" lessons are
dedicated. Whether while lying down or standing up, the examination is meant to focus our inner lens on the painful or contracted area.
For 30 years now not one lesson has been repeated. According to the body cognition method, there should never be an auto-pilot situation, explains Michaeli. Her priority is the attention and concentration of her pupils that they come out of the lesson with a revelation, that they notice the quality of movement and its correct timing. After the beginning of the lesson you devote yourself to the first movement which will gradually be followed by another and another. The transition from one movement to the next finally amounts to a continuous succession, reminiscent of a choreographic sequence. Michaeli defines Body Cognition movement class as meditation in motion.
She is 73 and is has the best posture in Tel Aviv. Her non-dyed hair is pulled up on her nape in a 1950's style. Her clothes are loose and comfortable and so are her shoes. She carries an air of the simple old Kibbutz style though she was born in Tel-Aviv and lived in Ein-Harod only for five years, until she turned 22. Her voice is soft but authoritative. Erect (but never stiff) she sits on a chair and with that "yosefi" voice controls her pupils, armed with a probing eye and nothing escapes her. Many times her diagnosis precedes those of the doctors. Some of her pupils are a tad fearful of her, but they all know that she knows what she is talking about.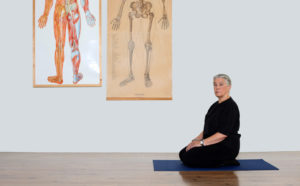 "The Body Cognition is a method that at its base offers a way for us to train our body and maintain it by listening to ourselves and to all systems in our body, not just the orthopedic ones," says Michaeli, "knowing to identify when a certain body part starts to get 'out of tune' and to see if it derives from our life style".
Experience from the kitchen
When I first met Yosefa Michaeli twenty something years ago, I was in the midst of a bad back pain episode. We spoke about the method and she of course spoke of lumbar lordosis, and mentioned that her abdominal muscles are almost always contracted and sucked inwards, so that it has become a second nature to her. I thought then that something is not altogether right with her and that I should nod my head politely. Today, I too, contract my abdominal muscles and pull my lumbar vertebrae inwards.
Michaeli's third book "Body Cognition: the Method," has been recently published (Hargol/Am Oved) and its goal is to present the method, that has been difficult to define from the get go. There were those who wondered if it's an exercise, or perhaps a treatment for all sorts of back problems. Michaeli diligently wrote this book over the course of a few years. The book, which explains in a flowing and friendly manner about the method and its premise, also comes with a DVD containing three sample lessons, filmed by Nili Aslan, a cinematographer who is now also a therapist using the method. The author, Yehoshua Kenaz has been practicing the Body Cognition method since 1984. This week he praised Michaeli's book. "After reading it, I understood the meaning of the things we've been doing in the lessons for all those years."
He first came to the studio although nothing was troubling him. The author Benjamin Tamuz recommended the method and Kenaz was curious, liked it, and for 25 years now he has been attending twice a week. "This method inspires a pleasant sense of confidence in the body", he says. "I compare what we do in Yosefa's
lessons to a sentence that is formed by a word and another word, and another word, and in the end an entire narrative meaning is derived".
"Slow is the fastest way" is Michaeli's motto, and the word "slow" resonates over and over in the studio. "The quick work covers problems, and people have a tendency to hurry," says Michaeli. "When a person gets used to working slowly he will overcome the tendency to hurry, and will gain something that is beyond the body. Contrary to other methods, we preach not to reach the end of a movement range but rather to leave a reserve. This way we did not harm the body and reached further. Instead of fighting the body we are being friendly to it. You can apply this to other areas in life".
"I spent quite some time in the kitchen and I know. If something is irritating the body, the being is hurt. When you come out of a lesson feeling light and floating, your mood is improved. If you participate in a lesson and improved quality, you will not come out angry and annoyed even if you walked in that way. At least for some time, the transmitters in your brain will awaken. If a person usually tends to move in a linear fashion, and during 45 minutes of the lesson he draws arched movements using his limbs, it eliminates any angle for a while, and also trims the thorns in his brain".
She doesn't go to doctors because according to her, she is in good health. She developed the Body Cognition method through her own experiences. The way our bodies are built is problematic, she explains, and it doesn't help that it has remained pretty much the same since our simian ancestors went from walking on four to walking on two. "We are structurally disadvantaged and as a result we have many weak points. In the past our life span average was about 40 years. We have doubled and tripled it, but we did not get a user's handbook about our body, and so we had to invent it ourselves. The advancement in technology and the prolonged working hours spent sitting have taken their toll. You see a truck driver getting out of the truck after driving for a few hours and it seems the seat is stuck to his rear. A job requiring repetitive movements is harmful to the body as well. All this leads to the assumption that we possess a large brain that knows how to learn and that we should use it".
"A cow gives birth to a calf and within a few minutes it can stand on its legs and suckle. Human beings have little instinctual movements. The Body Cognition does not invent movements but rather teaches a correct physical behavior. We must teach the body from an early age how to move about".
There comes a time in life when a person no longer enjoys his/her body.
"Once a person understands where the discomfort stems from and he invests in the conceptual and practical aspects, he will enjoy the fruit of his labor. Over the years we have accumulated people who came with a date for a spine or knee operation, and we suggested they wait a while and try the treatment, and today they are walking around happy and content".
Professor Ben Ami Scharfstein, winner of the Israel Prize, just turned 90. Scharfstein deals with the varied aspects of the connection between art and philosophy and he paints as well. This week he said that thanks to his relationship with Michaeli he is able to walk. About a decade ago he was diagnosed with spinal stenosis (the narrowing of the spinal canal). "When I came to Yosefa I was no longer able to walk but she insisted, and that's the story. She claimed I could walk and I said I couldn't, and this went on as I failed again and again. One day it worked and I have been walking ever since".
She treated me manually but the main thing was the constant insistence on the act of walking. Today, though I suffer from certain issues that come with old age, I am walking. The Body cognition is a method of naturalness and temperance and that is why Michaeli never wanted to treat professional athletes or dancers. According to her, the very exaggeration is the source of the problems. The second element of her system is flexibility, a flexible improvisation in accordance with the body's capabilities. She can offer 50 kinds of a certain movement and each will be a variation of the former. You go from one move to the next in an unpredictable manner which gives the movement an air of dance. Her involvement with the philosophy of the body and the changing aspects of the link between body and brain is interesting".
In the Scharfstein house resides another Michaeli fan. Gila, the philosopher's wife is a photographer, 81 years old, who underwent back surgery about three years ago and realized she would have difficulty walking on her own, "I call her my true friend because she came to see me twice a week and got me out of my depression. The surgeon said that within a year of the surgery I will be able to walk but only a little. Today I am taking walks around my neighborhood".
"After the surgery I was in bed and couldn't get out. Yosefa showed me how to move my leg. Gradually she designed exercises for me to strengthen the muscles. She taught me how to control my body. Her vast knowledge of anatomy and the nervous system allows her to explain why something is so painful. She set short term goals for me and gave me hope. 'Move your body half a centimeter,' she said, and that's how we worked very slowly".
Michaeli claims in her book that correct movement affects the thinking process as well, and she has a suggestion for a Body Cognition course for the Philosophy students at the Tel Aviv University.
…"I was a talented athlete", she says. "I was physical and had good coordination and I could catch a ball and throw well, I would jump and run wild". In high school she played basketball for Hapoel Tel Aviv and excelled in gymnastics. …she enlisted in the army and after her recruit service she was sent to the Paratroopers brigade. "I saw canopies in the sky and wanted in. I didn't have to be an athlete in order to skydive. The skydiving was purely for the sake of adventure. We were three women in the regular skydiving course and later in the advanced skydiving course. The purpose of the course was to prepare an expedition for Moscow". In the summer of '56 a delegation of 5 men and 3 women skydivers represented Israel in the skydiving world championship. Among other things, they skydived from 2,000 meters (they had to aim to a circle of a 150 radius while the approximation of the skydiver determined the win). In first place came the Czech skydivers and the Israeli skydiver women had to settle for 10th place.
After her military service, Michaeli began her Physical education in Seminar Hakibutzim. … In Seminar Hakibutzim a physical education teacher by the name of Lota Kristala stood out and had greatly influenced Yosefa. "She was different than the rest of the teachers. She understood the body. Her lessons were neither achievement-oriented nor focused on strength, nor were they of that militant nature of one two three". Yosefa has been teaching exercise and movement privately in small groups since 1961. "I had many questions and no answer as to why it was that when I give a lesson to ten people, one person comes out of the lesson feeling good and another comes out complaining of pain", says Michaeli. She began exercising with Moshe Feldenkrais who has become famous as the one who put Ben Guryon on his head as part of a back-pain therapy for the elderly leader. Feldenkrais used a method he invented and developed, and he gave lessons in a big basement on Alexander Yanai Street. "I participated in the lessons he gave for several years and realized that my salvation would not come from this either", says Michaeli. She longed to have a deep knowledge of the human body and went to study Physiotherapy in the Wingate Institute and got her degree in '68. "The main thing occurred in my head. I wasn't content with the link between the extensive theories I have gathered from the different medical fields and the implementation of the physiotherapy. I tried to cater to the problems I came across in the groups I was teaching. My antennas were open, and through consistent attentiveness and a prolonged tracking of the pupils the Body Cognition method was developed. My claims today are based on medical, physiological and pathological knowledge. I am specific and I encourage students to ask questions because through inquisitiveness and research I have found answers. I have studied the body profoundly and learned to identify minute details".
There are those who claim that Body Cognition and Feldenkrais are basically the same.
"The conclusions we reached through the Body Cognition method are unique – the pillow supporting the vertebra in the neck, the palms of the hands turned toward the ceiling, and much more. Feldenkrais claimed unequivocally that the body is smart and knows how to repair itself. I claim that the body is not smart, and that it came to me so that I could teach it. Feldenkrais objected to the word 'correct', and I say that I know what is correct and what a correct movement is and what an incorrect movement is. You do your exercises and I make my remarks throughout the lesson. That is why our groups are small. We know each and every student. Feldenkrais agreed to teach a hundred students in a class because he never made any commentary. If you do not correct a student, then it really doesn't matter how many people are lying in a studio making movements".
Michaeli believes that we must not simply get to know our bodies, but that we must move correctly and moderately. Jumping, running and weight lifting do not impress her.
How would you define good fitness?
"Fitness is a social and cultural concept. I believe that being fit is the ability to finish a day's work while feeling invigorated and not tired. Being fit means not accumulating physical problems over the years and being able to walk from place to place at a reasonable distance. It is also the ability to reach a place that has no support, like a show in an amphitheater and be able to sit for several hours without suffering. Being fit is functioning well in life."
Doctors today recommend exercise and walking to reduce cholesterol levels and for the heart – and you are against it.
"Doctors do not understand and do not specialize in the field of physical activity. You can graduate medical school without having worn gym clothes. This field needs to be learned by doing. Everybody engages in physical fitness – weight lifting, sweating, raising the pulse and harming the body. It is wrong to help one system, for instance the cardio-vascular system, and harm the orthopedic system, humans barely stand on two legs, and the joints in the body are not built for running which causes ankle, knee and spinal cord injuries.
"We are a mechanical machine. Obviously the spirit can overcome the physical and we can keep running despite the difficulty because 'I was told it was good for me'. The damage is irreversible. Doctors, including Orthopedists, do not study profoundly the aspect of physical-movement and do not go into details. I walk along the park and see a man with a bad posture and knees turned inward and he is running or speed walking and it only exacerbates his problem. Those who swing their hands and are unaware of what they are doing to their body. I hear of people with back problems who take up swimming at the advice of an orthopedist. Swimming is an action that contracts the muscles and it does not help the back that is in a spasmodic state. It is best to soften the muscles in such a state. Medicine is not a matter of fashion and I am willing to confront any doctor and any medical system and prove that gyms are harmful".
"People are walking on treadmills while reading or watching television. One must exercise the way one prays, with intention and not mechanically. Generally the problems are in a grey area. You don't need to be an expert to be able to identify deviations such as bad posture. During our lessons it takes a person a long time to identify his weaker body areas, or certain flexibility. But all this is not important. Strength and flexibility are not the goal; they are a means to an end. It is important to walk at ease without weights or a backpack filled with stones. A person should be able to walk a long distance. If you are born with little flexibility, you will not be flexible. A person should act according to his ability and have physical awareness".
Peled Michaeli
, Yosefa's eldest son, is 49, has a Masters in Physiology which he completed in New York, and he teaches the method. His sister, Shani Michaeli, 47, is a certified nurse and an obstetrician who has adjusted the method to be suitable for pregnant women.
Peled says: "at the core of the Body Cognition method is the premise that if a person has a problem, we will treat its micro nuances. Sometimes a doctor says: wait a little and we'll see what happens. We believe that postponing sometimes creates a situation where it's too late, therefore we treat immediately".
Yosefa Michaeli suggests teaching the method as early as kindergartens or at least in elementary schools. She has a program ready that she would be happy to show the minister of education. "Kids graduate high school and they have no body awareness. They are taught nothing. They have no idea how to use and live with their own bodies.
Michaeli wishes to teach children about their bodies. "They will learn among other things that they shouldn't stand with their knees locked. I will impart them with these terms. I will explain, using an anatomical map, why it is unhealthy. We will understand the concept of symmetry and will work on what they should do to keep their bodies healthy. The Body Cognition lessons are also spiritual. You learn concentration. You practice taking a subject and focusing on it without escaping to the side. You must be creative and connect between four movements. It is wonderful to see children do this. In the Body Cognition we teach and not activate. They will learn how to loosen up, which is something that no child is exposed to. People finish a day's work without energy because they don't know how to loosen up".